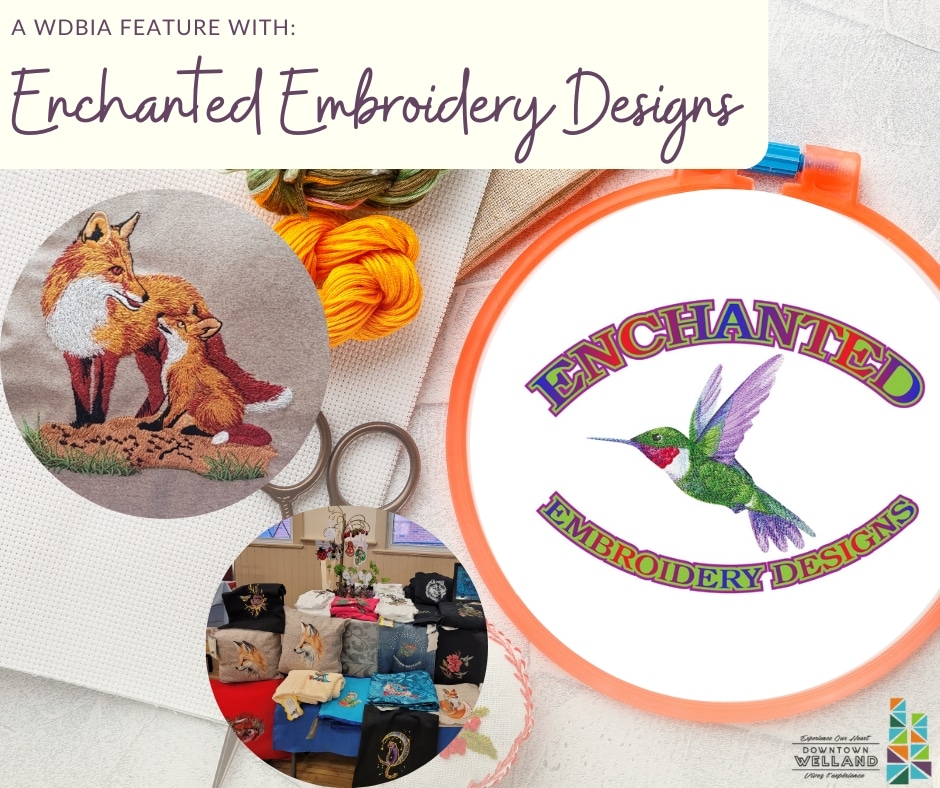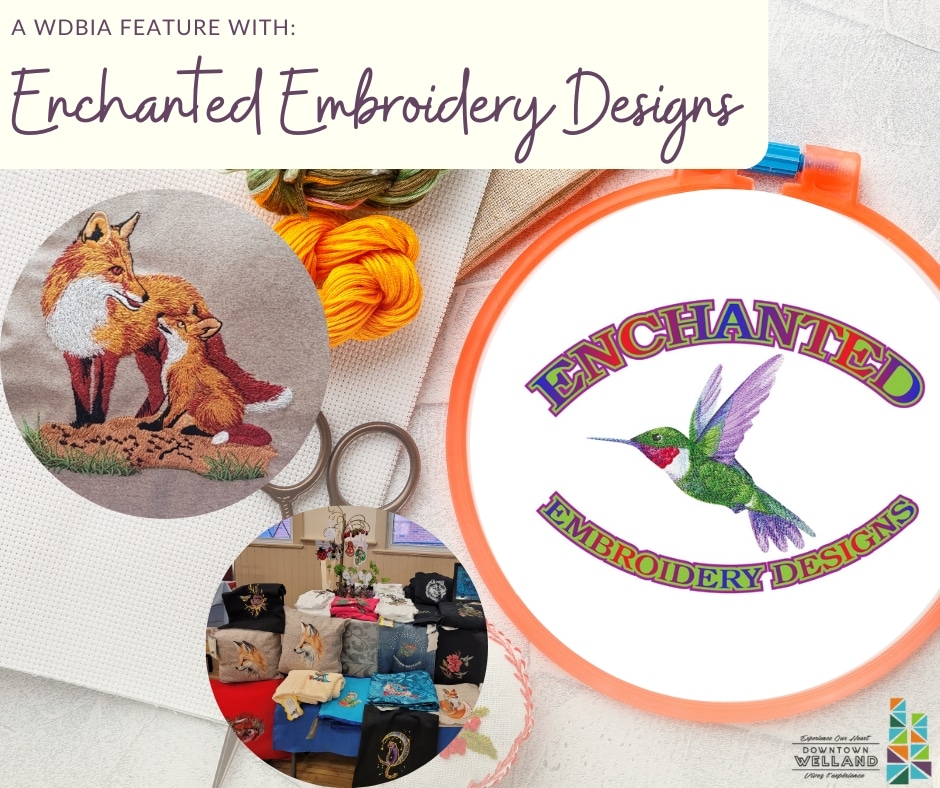 Located on 14 King St, Welland is Enchanted Embroidery Designs, a place where creativity thrives and where artistic ideas are made into a reality. At Enchanted Embroidery, there is no such thing as an idea that can't be done. Enchanted Embroidery specializes in embroidering designs onto virtually anything, from home décor to clothing like jackets, shirts, and hats, to luggage, lunch bags and so much more!
Enchanted Embroidery has been operated by Doris and Vince since November 2022. Since its opening, Enchanted Embroidery has been selling embroidered designs on clothing and merchandise as well as helping customers create new embroidered designs for various projects. What sets Enchanted Embroidery a part is how personal the process is for customers. To create an embroidered design, all you need is an idea! At each step of the process, Enchanted Embroidery will help customers design and create ideas for embroidery. Rather than having the embroidery machines in the back of the store, customers can get an up-close view of the embroidery machines in the front of the store to witness the entire process. Your design ideas can flourish under the creativity of Doris at Enchanted Embroidery, who has turned dresses into lucrative lunch bags and even sweaters into decorative pillows!
Embroidery is for everything, not just logos! At Enchanted Embroidery, you can digitize images into embroidered designs. All you need is an image on your phone that you would like to get embroidered! This is an amazing way to turn an image of your pet into an embroidered design to put onto blankets, sweaters, pillows, and so much more! A custom-made embroidered design is the perfect way to create your own unique style, décor, or vision! At Enchanted Embroidery, you can be a part of every step in the process of creating your own unique, custom-made piece of art that will stay with you for years and years.
Have a look at some of the amazing designs that Enchanted Embroidery Designs has created on their website at https://enchantedembroiderydesigns.com or visit their Facebook at Enchanted Embroidery Designs Welland.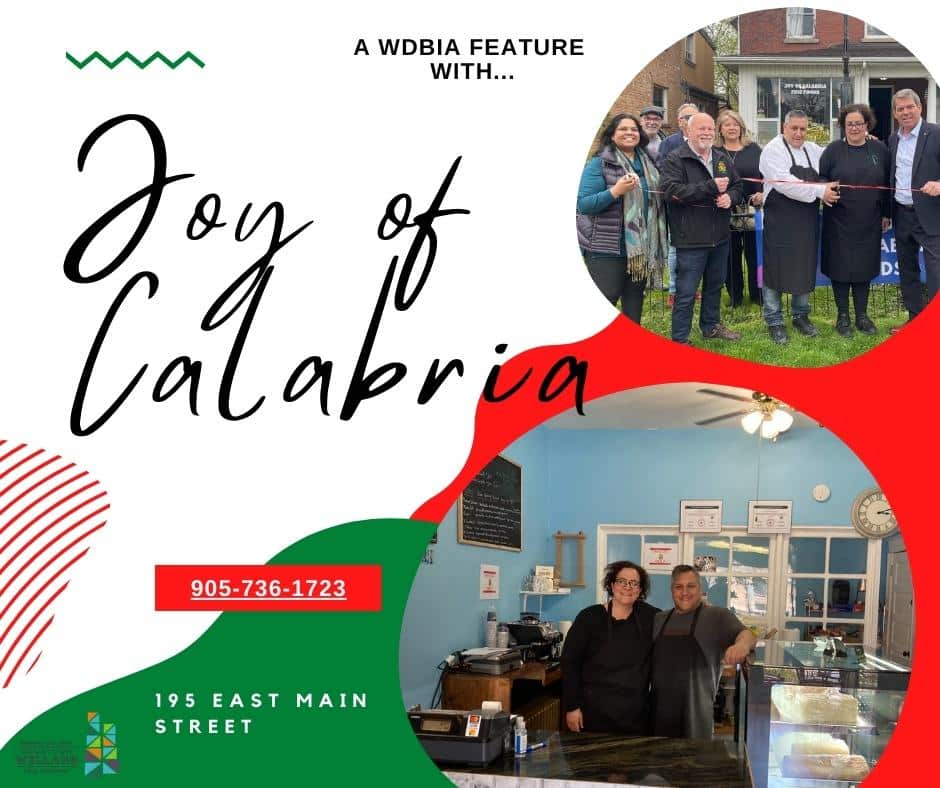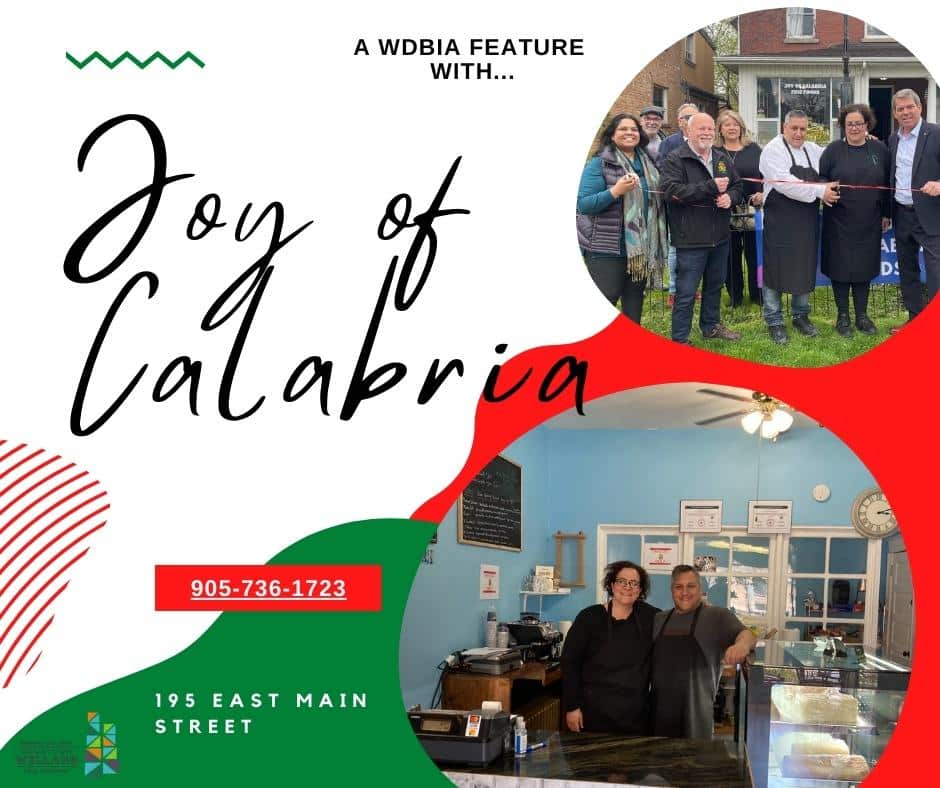 As you walk into Joy of Calabria, you're instantly met with a warm welcome. You'll notice smells of fresh Italian dishes being prepared and authentic Italian espresso being poured. You'll see the walls are lined with photos of the Italian Mediterranean coast and authentic Italian pastas, sauces, deserts, and coffee. You'll hear not only Italian music playing, but the singing of one very special man, Claudio.
Last week, Claudio Papatolo and his wife Annie Ventresca opened the Joy of Calabria, a truly authentic Italian deli inspired by Claudio's home region in Italy, Calabria. Seeing that Italian food in Canada didn't reflect the distinct flavours and dishes found throughout the various regions of Italy, Claudio made it his objective to bring Southern Italy to Welland. Using the best authentic Italian ingredients, Joy of Calabria serves meals made fresh every day. What customers have come to love about Joy of Calabria is that a new dish is served every day. From veal cuts served on one day to fresh lasagna served the next, each day at Joy of Calabria offers customers a different taste of Italy.
There is a deeper meaning to the name of Joy of Calabria. 3 years ago, Claudio's long-time best friend from Italy had passed away. His best-friend, who was dedicated to helping people with substance addictions, had a motto he would always say, "Gioia Sia". Gioia Sia roughly translates to "Joy for You", and since Claudio wanted to dedicate the opening of his business to his best friend, combining both his motto and their love for Calabria, the name "Joy of Calabria" was created. Claudio also lost his mother several months prior to his friend's passing and the store is also dedicated to Mamma Silvana- an excellent cook herself.
Claudio is extremely passionate about martial arts. Before opening Joy of Calabria, Claudio had taught self-defence to the police and military in Italy and created self-defence programs specifically tailored for women and children. He hopes to bring these programs to Welland as well in the future. As you'll see when entering Joy of Calabria, Claudio loves to sing. A singer-songwriter himself, Claudio hopes to have live music performed during the summer months at Joy of Calabria.
Since opening their business, Claudio and Annie have felt the warm reception from Welland and want to thank everyone, from the City of Welland to the amazing customers supported making a dream come true. Seeing how supportive the Welland community is, Claudio is optimistic in the growth and potential of the City and Downtown area. Since coming to Welland from Italy, Claudio is so grateful to Canada for allowing him to open his business. Though he will always be true to his Italian roots, Claudio feels just as Canadian as he is Italian.
If you want to experience the true taste of Calabria and feel the warm embrace of Italian culture, come on by to Joy of Calabria! Joy of Calabria will open from 9am to 4pm on weekdays and from 10am to 2pm on Saturday. You can visit @joyofcalabria on Instagram to see what is being served daily or visit https://joyofcalabriafinefoods.net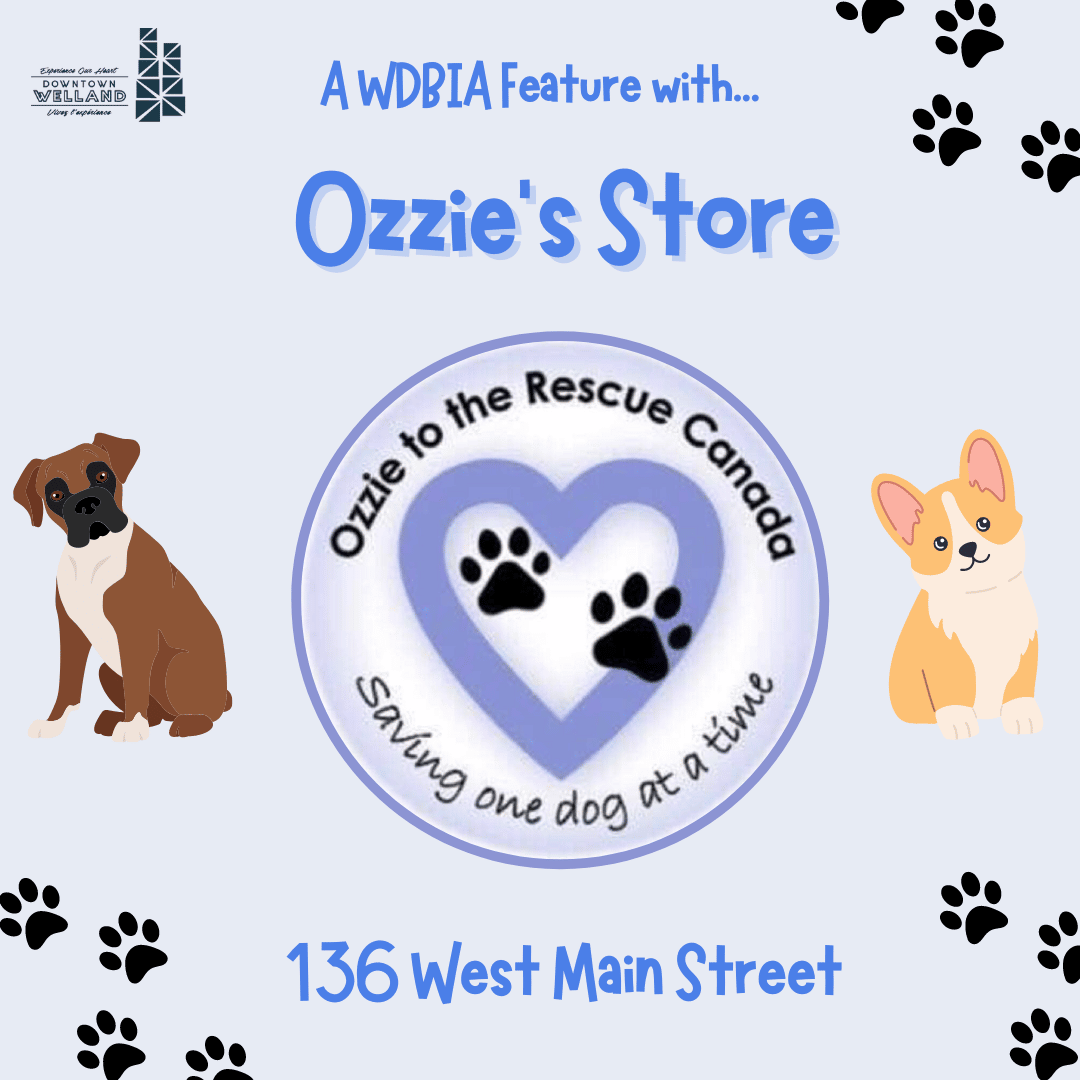 Ozzie's Store Feature
There is a very special group of people in Welland who run "Ozzie to the Rescue Canada", a volunteer-led dog rescue. Four years ago, Jennifer Cormier founded Ozzie to the Rescue after years of volunteering with other organizations. Jennifer knew the changes she wanted to see, so she took matters into her own hands and built a special team of about 15 people to help run her dog rescue. Within the past four years, Ozzie to the Rescue Canada has rescued and adopted out 400 dogs! This organization's main focus is helping out the dogs that seem to have a harder time finding their forever homes, such as senior and handicapped dogs, but Jennifer and her team will happily help any type of dog in need. Now, what is "Ozzie's Store"?
Ozzie's Store will be a shop on 136 West Main Street selling handmade pet products, pet accessories, new and used pet supplies and more! The purpose of Ozzie's Store is to help facilitate Ozzie to the Rescue Canada. Founder Jennifer does a lot of the rescue work out of her home and puts her own paycheques towards funding it. This store will be an amazing opportunity for the Ozzie to the Rescue team because it will create a spot for meet and greets, volunteer and foster inquiries, a donation drop off location and a more accessible source of income for the rescue to operate! Ozzie's Store will have services such has bi-weekly nail trims and will have a wall to showcase pictures of available dogs and their descriptions.
Every dime and donation received goes right back to the rescue. Ozzie to the Rescue Canada accepts monetary donations, pet food and product donations, as well as a donation of your time and support! Donations from pet stores are rare but would be a tremendous help for Jennifer and her team to put towards operation costs. Ozzie's Store will also always be open to individuals who wish to sell their handmade products in their store.
Wondering how you can get involved? Volunteers are always welcome, Ozzie's store will be completely volunteer run and you can drop by in-person to fill out foster applications, hand in donations, or chat with the team to learn about available furry friends. Ozzie's could not run so smoothly if it weren't for the help of all the volunteers, so Jennifer wants to give a special thank you to them. You can contact them online via their Facebook: https://www.facebook.com/ozzietotherescue2 or their website: https://ozzietotherescue.ca/?fbclid=IwAR39nPV7ElTIQa8aWR-jQRhvxlrU5mMNn6Ti_7v5AkuYSatdoPQrZSHGWpY 
The Grand Opening of Ozzie's Store is Saturday September 3rd at 136 West Main Street from 10:00am to 4:00pm! This open house will feature BBQ food for sale, prizes to be won, merchandise to shop for and the opportunity to learn more about Ozzie's Rescue and what they do. Thank you to Jennifer Cormier for sharing your story with us and thank you to the entire Ozzie's team for the work you do, the world needs more people like you.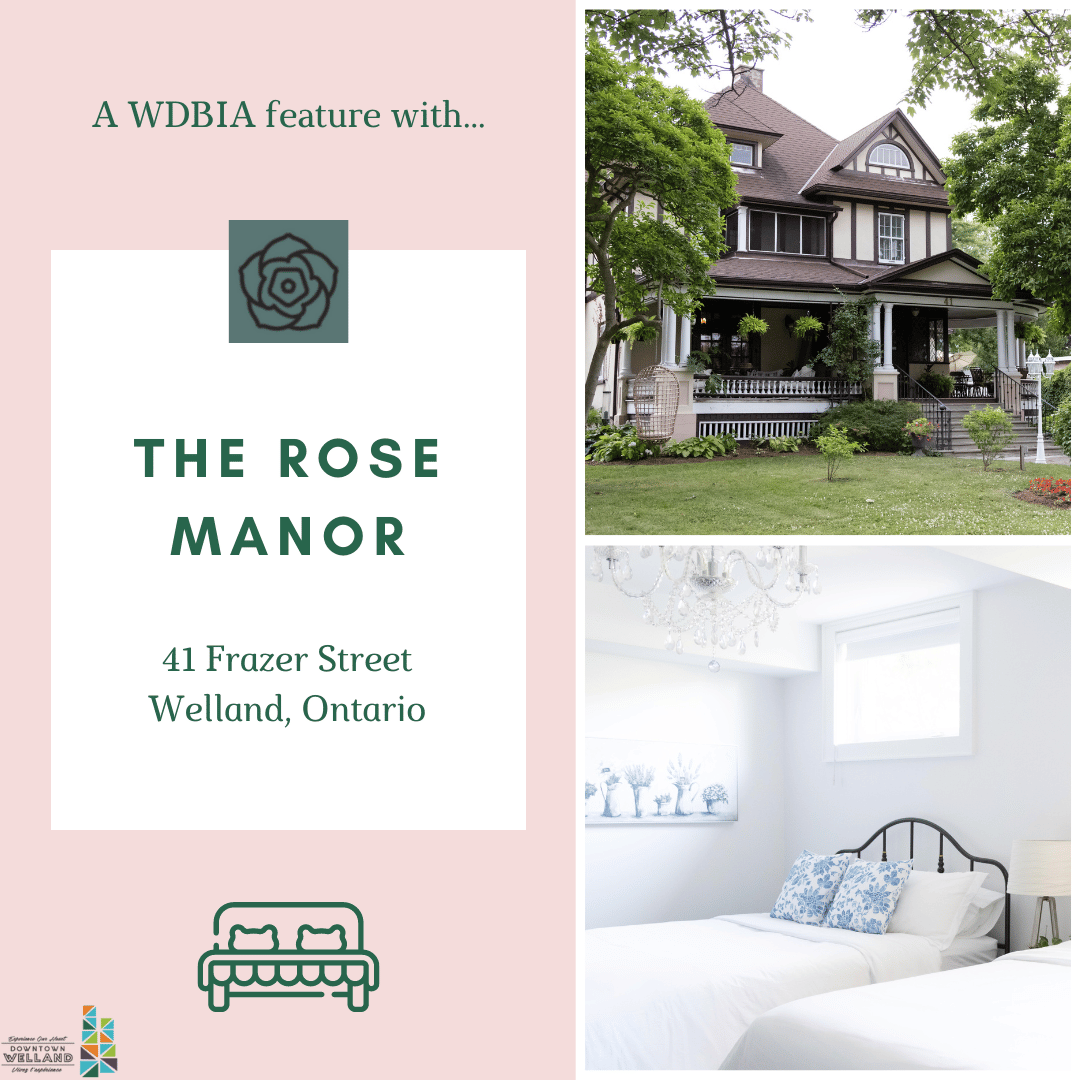 A WDBIA Feature with Kristin and Kathryn from the
Rose Manor
:
Nestled in a quiet neighbourhood on 41 Frazer Street is one of Welland's absolute gems! The Rose Manor is a beautiful, spacious bed and breakfast that combines its timeless historic architecture with contemporary hand-picked décor. This is a space for a local weekend getaway, an out-of-town retreat, and smaller scale events! The Rose Manor is under new ownership and these owners have so much in store for the property.
Sisters Kristen and Kathryn Groom followed their dreams to go into business together and operate a bed and breakfast. The sisters wanted to connect their passions for travel, hospitality, cooking, and meeting new people, so when the manor went up for sale, they jumped on the opportunity. Kristen and Kathryn were born and raised in the Niagara region, so they were happy to stay in the area and be able to share all the special things about where we live.
What's unique about this bed and breakfast? For starters, there are 8 beautiful rooms, each with their own notable style, and each room is actually named after an original Rose family member! The original home is very large and was built in 1906, but in 2016 another extension was built on the back to provide even more room for guests. It's difficult to decide which part of the home to enjoy first because every corner has its own charm. The front porch may be one of the most popular spots with the beautiful view of the canal, while you're surrounded by flowers…and being served by Kristen with one of Kathryn's delicious creations! Breakfasts are a plated, sit down experience and are seasonally based. Dietary restrictions are accommodated and there is even a garden on site for the chef to incorporate fresh produce.
What's next for the Rose Manor? With such a large unique space, the sisters want to offer massage therapist and aesthetic services to their guests as well! They are currently on the hunt for massage and aesthetic service professionals, so please reach out if this opportunity interests you! Kristen and Kathryn want to be the reason that people come explore what Welland has to offer and give you a memorable stay while you're here. The Rose Manor isn't just a place to stay, it's a whole experience!
It doesn't stop there…please consider this venue for all your small-scale event needs! The sisters would love to use their beautiful space to its full potential for micro-weddings, bridal showers, weekend group retreats, girls' trips, and much more! Kristen and Kathryn would be excited to partner with local businesses to create fun experiences for locals and visitors. They love to promote the best spots to dine, shop, kayak, and explore in Welland.
The Rose Manor is open 7 days a week, and bookings will soon be available online pending the website launch, but for now the best way to contact them is through social media (@rose.manor.welland) or email (

ebfrznabejryynaq@tznvy.pbz

). Stay tuned to their Instagram or Facebook to see what's going on at the Manor! Kristen and Kathryn are an amazing duo, and we recommend that you choose them as your hosts for a relaxing stay in the Rose City.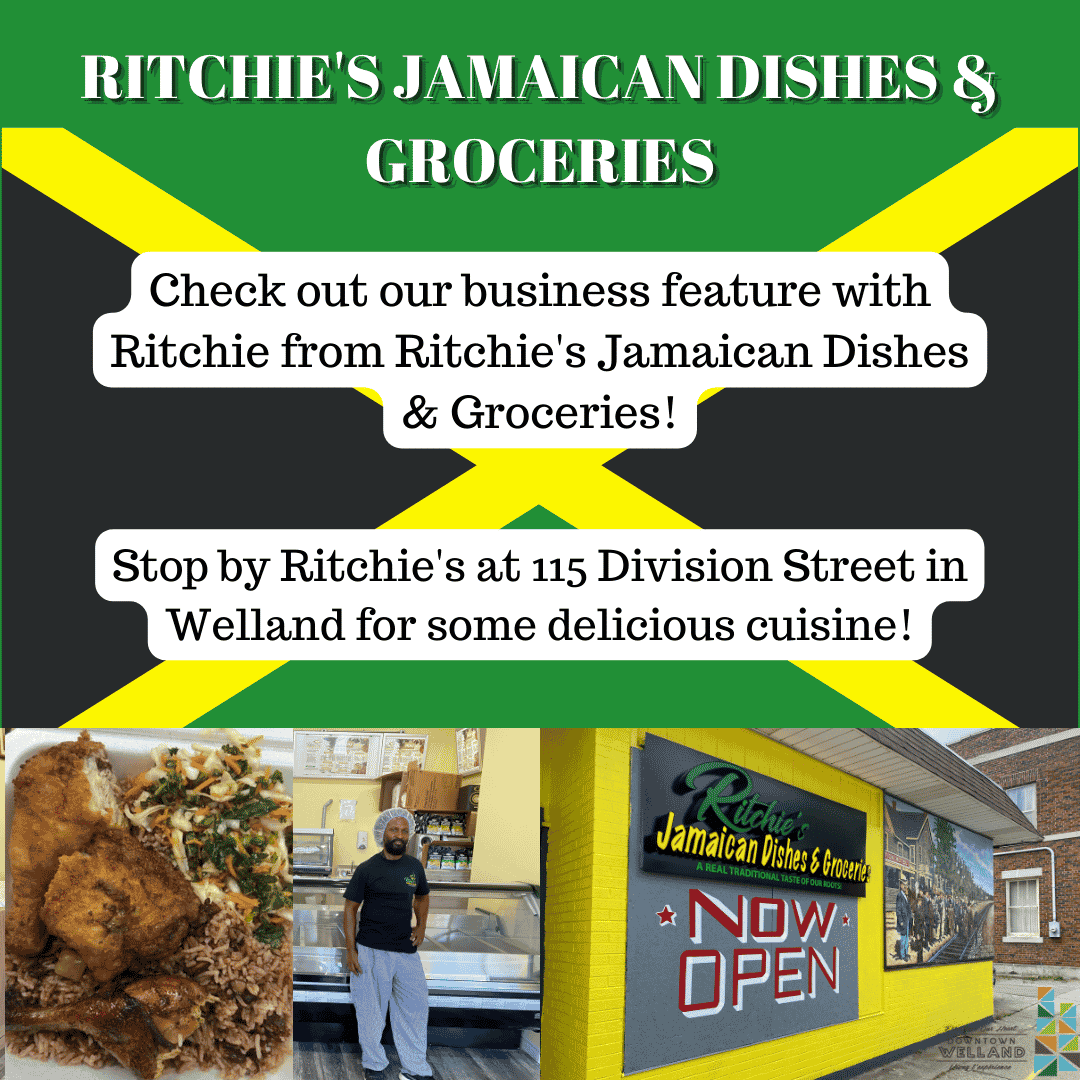 A WDBIA Feature with Ritchie's Jamaican Dishes and Groceries:
Authentic, traditional, delicious Jamaican cuisine exists right in the heart of downtown Welland. All you have to do is stop by Ritchie's Jamaican Dishes & Groceries on 115 Division Street! Ritchie's is a family owned and operated business serving up Jamaican delicacies cooked by Mr. Ritchie himself.
Chef Ritchie moved to Canada with his wife in 2002 and he knew that he wanted to pursue his culinary talents here. Ritchie started off doing catering, with his most popular item being sweet potato pudding (featured on Ritchie's menu today) but he wanted to expand and share more of his Jamaican cuisine with customers. Ritchie has always had a passion for cooking, he lived on his own from a very young age, so he has always been making his own food. His love of cooking can also be attributed to his grandparents, as he watched them prepare traditional meals daily.
At Ritchie's they pride themselves on quality of food, cleanliness, and customer service. The restaurant is currently just open for take-out, and they are planning to offer a selection of Jamaican groceries starting in September. Ritchie's is open 11:00am-7:00pm Monday to Saturday, but due to high demand, they may be open on Sundays as well in the future!
Ritchie is a very proud, kind, and passionate business owner. The people of downtown Welland have shown him lots of support and he is excited to continue building relationships with everyone here. Their menu features a large selection of Jamaican dishes – you can check it out on their Facebook page:

Ritchie's Jamaican Dishes

, stop by the restaurant, or give them a call at 289-273-2742. Thanks for your authenticity Ritchie, keep up the good work!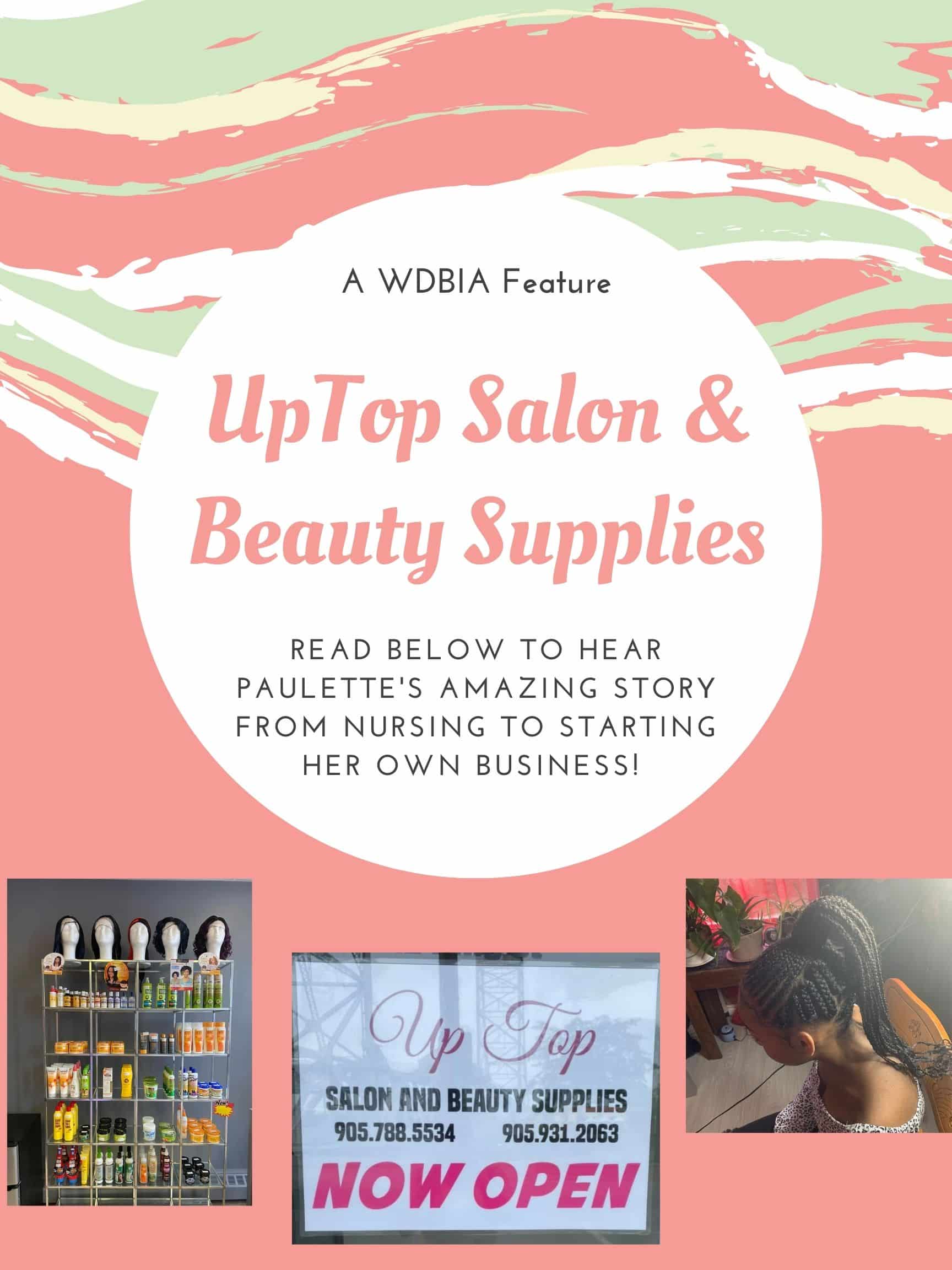 WDBIA Feature – Uptop Salon and Beauty Supplies
From the frontlines of the pandemic to opening a new business in Downtown Welland, Paulette Lindsay's story of starting her business UpTop Salon & Beauty Supplies shows that it's never too late to do what makes you happy!
For a large part of her life, Paulette worked as a nurse. The reason Paulette got into nursing was because of her passion for caring for others. For many years, Paulette had enjoyed the work she was doing. Connecting with people every day brought great joy to her work.
The pandemic had put a strain on frontline workers greatly, including Paulette. Having been in nursing for a large portion of her life, the pandemic had pushed Paulette to re-evaluate what she wanted to do in her life. Of course, Paulette loved her job and greatly enjoyed connecting with people. As she thought of what she wanted, Paulette decided that going into hair and personal care would allow her to do something she always liked while also maintaining a personal connection with clients.
Paulette opened UpTop Salon & Beauty Supplies in July of this year. Working at the salon, Paulette still gets to be the people person she always has been, and still feels amazing doing great work for people! UpTop Salon & Beauty Supplies offers a wide range of hair options, from dyeing to braiding, to wigs, to cornrows and even more! In addition, UpTop Salon offers beauty products for hair, face and body! Paulette still has great ambitions for the business and plans on expanding to other services in the future!
If you want to support a new business and see the great and personal care Paulette always offers, go visit UpTop Salon & Beauty Supplies! You can also find UpTop Salon on Facebook here: Uptop Salon and Beauty Supplies or you can contact them via email (hcgbcfnyba21@tznvy.pbz) or via phone at 905-788-5524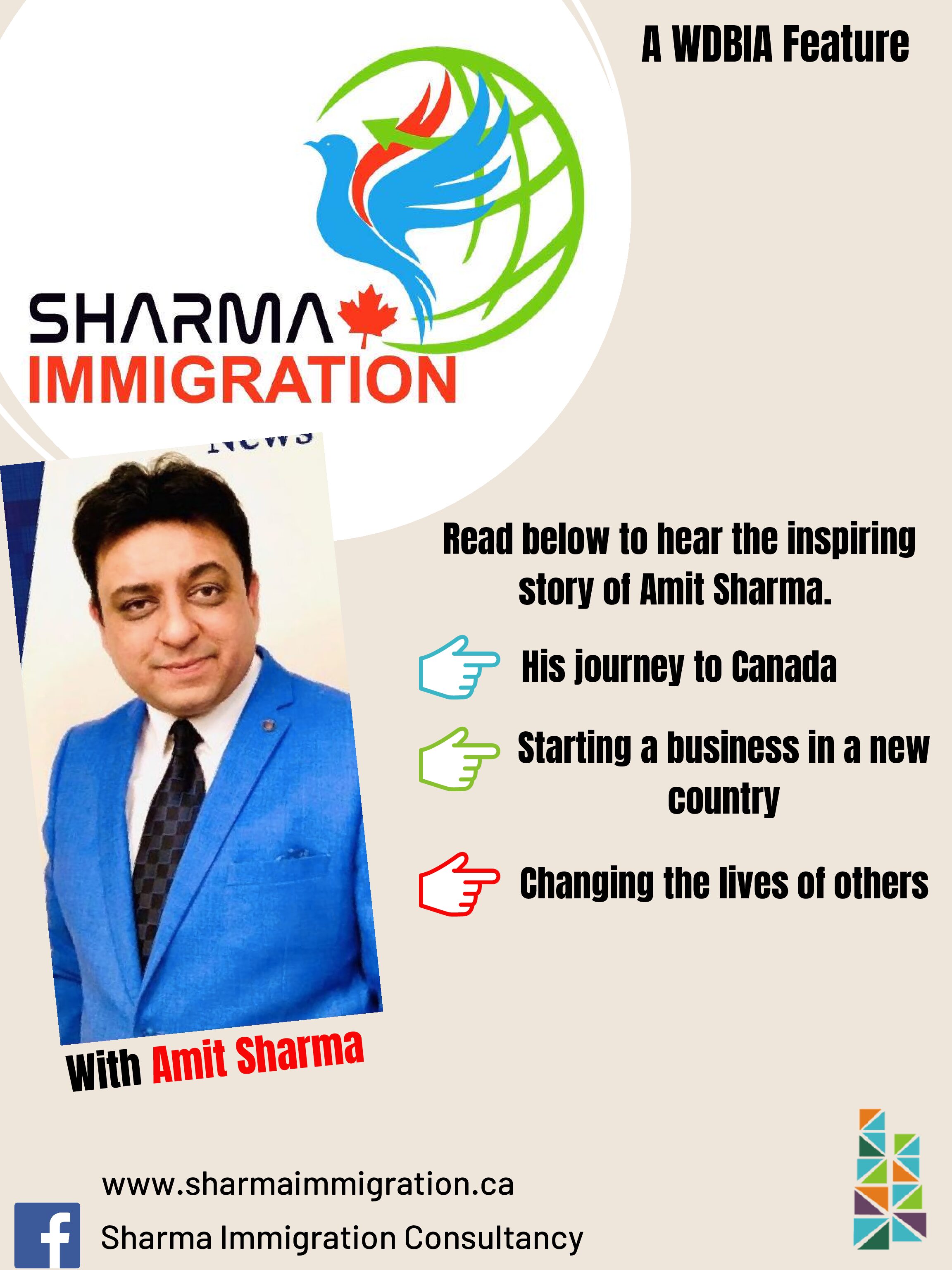 WDBIA Feature – Sharma Immigration Consultancy
For anyone who has immigrated or knows someone who has, they know how difficult and confusing it can be to navigate the many factors at play. For Amit Sharma, he took on that process by himself, and through his own experience, now works to help others to guide them through the immigration process. Once immigrating to Canada from India, Amit now consults and helps others come into Canada to help them achieve their dreams. As will be shown in this feature, Amit's inspiring story of his success in Canada displays his dedication, risk-taking, and genuine caring for others.
Truly taking in Amit's story requires a look into his life in India and what drove him to come to Canada. For a large part of his life, Amit worked in telecommunications in India. Amit enjoyed this work, he had a vast knowledge of technologies and also customer service, but he felt there was something more to his life. Amit began thinking about moving to Canada in search of greater opportunities for himself and his family. This prospect of greater opportunity drove Amit to navigate the immigration process by himself. He handled all the paperwork and successfully got approved to move with his family to Canada.
Upon his arrival in Brampton, Ontario, Amit instantly felt the difficulty of finding a job. He managed to find a position as a sales representative for an electronics business. However, Amit felt that there was something greater out there for him. After taking a risk of moving his entire family across the world, Amit decided he needed to take yet another giant step forward. Finding interest in completing his immigration application by himself, Amit realized he could pursue that work in Canada as an immigration consultant. It was at this point, in the middle of his life, with a family depending on him in an entirely new country, Amit switched his direction in life and went back to school to gain his license in Immigration consulting. This life-changing decision would prove to be successful, as Amit obtained his license and started helping others achieve their goals in Canada. From then forward, Amit purchased a home for his family, including his elderly father, who he takes care of, and opened up his own business.
Amit moved with his family to Welland exactly one year ago. Sharma Immigration has helped a large range of people inside or outside of Canada achieve their dreams. He has helped people from across the world, from India to Nigeria, and the United Kingdom. Amit is experienced and knowledgeable in a variety of different forms of immigration. In specific, Amit has helped lots of students come to study and make meaningful contributions in Canada. There's great satisfaction in the work Amit does. Helping others achieve their goals brings meaning into the work of Amit. Amit has even highlighted some of the success stories he has had the privilege of being a part of. This includes reuniting couples in Canada and even changing a women's life by getting her the chance the study in Canada after previously being declined.
Central to the work of Amit is his compassion. Having to go through the same experience as many immigrants, Amit understands the hardships associated with moving to a new country. Amit gives each client the same level of intense care and makes sure they don't feel alone. Amit truly cares about each individual's goal and wants to help them achieve it. For those wanting to achieve their dreams, Amit will help every step of the way.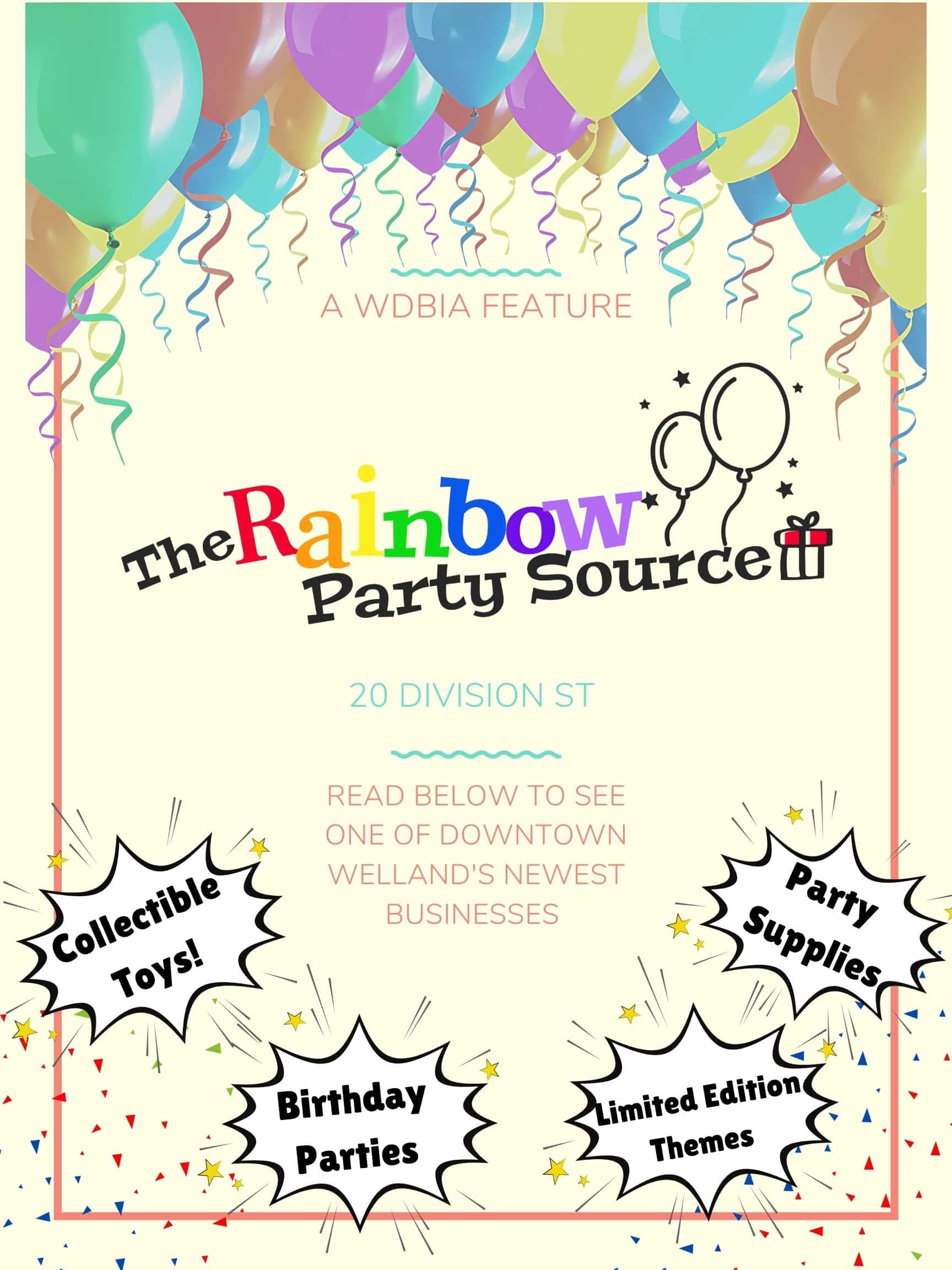 WDBIA Feature – The Rainbow Party Source
Everyone loves a good party! Now, at 20 Division St, The Rainbow Party Store is bringing the party to Downtown Welland! With their great inventory and passion for throwing a great party, The Rainbow Party Store hopes to help you with party needs in the coming future.
The store's owner, Farrah, has a lot of business experience and has sold large amounts of different products with Amazon, this included party supplies! Farrah realized that there wasn't a great party store in the Downtown Welland area and wanted to change that. With her experience at Amazon in moving large amounts of products, Farrah decided to open up a party store that offered the widest range spectrum of party supplies! This includes anniversaries, holidays, birthdays, milestone parties and even more!
What separates The Rainbow Party Store from others? It's simple, The Rainbow Party store offers the most unique and hard-to-find party supplies, including limited edition themes, and gives you the personalized experience of getting to choose what you want. Especially for birthdays and anniversary parties, it's much more comforting getting to look at what you're buying up close with someone who knows what you need and cares for your special event.
But it's not just party supplies that The Rainbow Party Store offers. They also offer highly collectable figurines, toys, and action figures! Anyone who is interested in collecting these items can go to the store and look at these highly desirable items! As well, anyone can have a look at their wide selection of kids' books, toys, piñatas, and gifts!
Most of all, The Rainbow Party Store is here to service you. Anyone who has a party idea, whether for a child's birthday, a friend's milestone, or a spouse's anniversary, The Rainbow Party Store will be there every step of the way to make sure you get exactly what you need.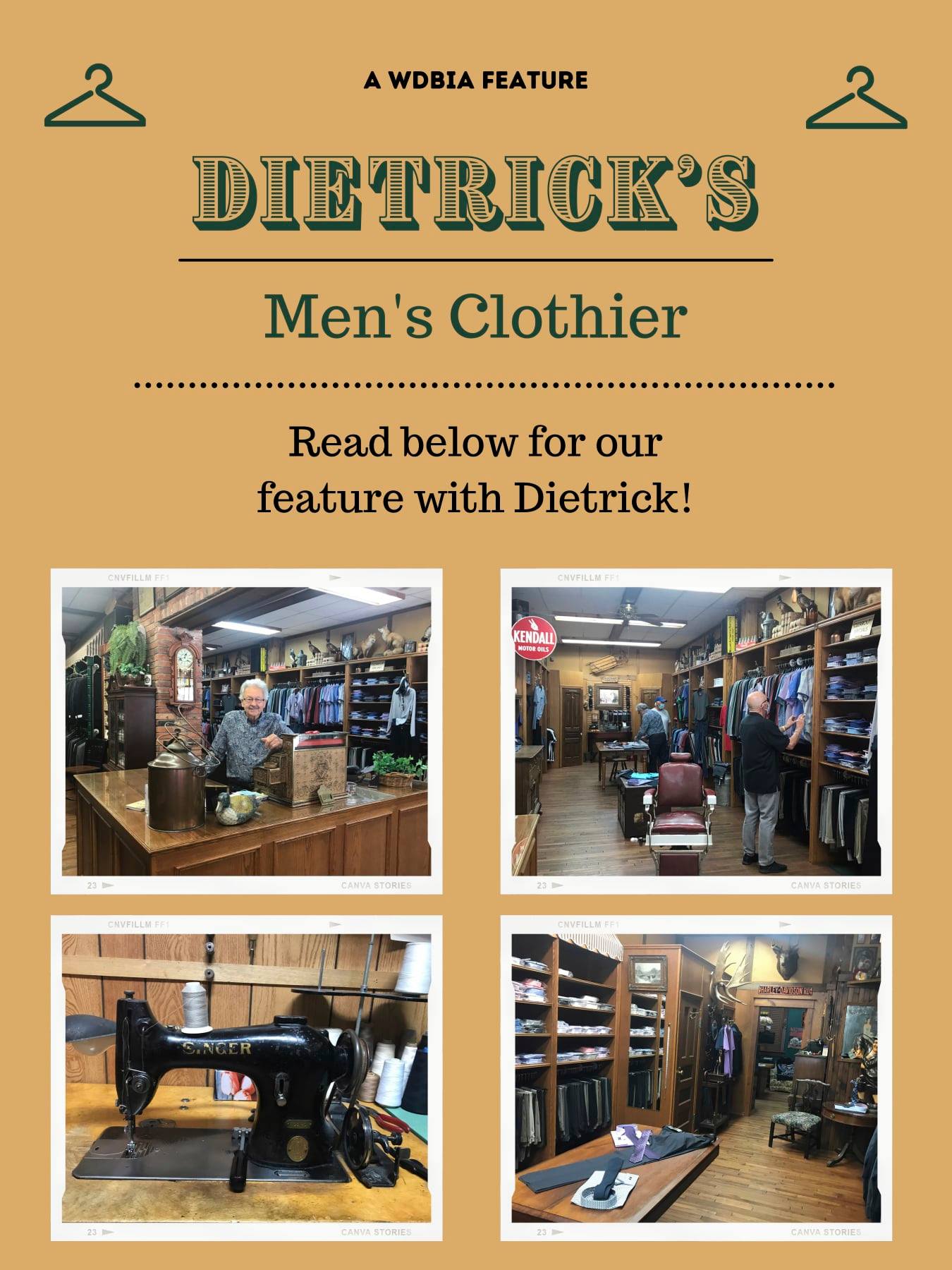 WDBIA Feature With Dietrick Motiak
50 years is a long time. 50 years is a milestone age, it's half a century, and it's long time to work the same job. That's where Dietrick Motiak comes in.
Many people know of Dietrick's men's clothing store in Downtown Welland, despite the little advertising that he does. Dietrick is an extraordinary, hard-working, humble man who has owned and operated his store since 1971. This August marks the 50th Anniversary of Dietrick's business, and even with his great success, many people might not know his story.
Dietrick Motiak moved to Canada from Austria with his family when he was just 3 years old. He originally lived in Niagara Falls, then moved to Welland as a teenager. During his early years as a young man, Dietrick worked for a clothing store in Welland, but always had aspirations to go off on his own and start his own shop, which is exactly what he did. The year that he did this was a busy year to say the least. Not only was he making a big life decision to purchase his first (and final) store, but he was also getting married to love of his life, Ginette.
Almost 50 years ago when Dietrick purchased his shop on 24 Cross Street, he actually only owned half of it. The other half belonged to a small wool shop, which eventually came to be the other half Dietrick's store that we know and love today. But that's not all the expanding that Dietrick did. You might notice that Dietrick's clothing store is all on one level, what is on the level above him? Well, the answer to that, is his home. Dietrick purchased the upper level of his stores' building, renovated the old offices up there for three years, and made it a home for him, his wife, and their two daughters Jessica and Jennifer. So, luckily for Dietrick, his commute to work doesn't take too long in the morning.
Dietrick's daughters describe him as a one-man show. His consistency and commitment to his clientele have carried him through some adversities. When the Seaway Mall was built in Welland, Dietrick admits to losing some business. The mall had flashy, trendy stores that could potentially steal some customers. Dietrick stayed true to his values and continued to carry quality clothing, both casual and dress wear. He still combines up to date styling, great service, and amazing prices which include in-house tailoring at no extra charge. This is how Dietrick was the only one, out of five men's clothing stores to remain in Downtown Welland.
What sets Dietrick's apart from other clothing stores? Dietrick's success does not stem from one specific thing, but everything he has done for the past 50 years. Many people would agree that it is he, himself, who is the reason behind his success. His personality makes people feel comfortable in the store, along with his willingness and desire to help you. Dietrick describes his job as easy, because he gets to interact with his clients and has a genuine passion for what he does. Dietrick is very thankful to all of his customers, some of who are regulars and have brought generations of families to shop at his store.
With an ever-changing world, there is comfort in knowing that Dietrick has always, and will always offer the same quality of clothes, service and enjoyable experience at his store.
Dietrick has even coined the nickname "The Mayor of Cross Street" due to his longevity on the street and the way he looks after it. When asking Dietrick if he ever plans on retiring and closing up shop, he replies with "If I ever retire, you might as well say I'm dead." Now that's commitment.
Congratulations to Dietrick on 50 years of business, and thank you, for always being someone that the people of Welland can rely on!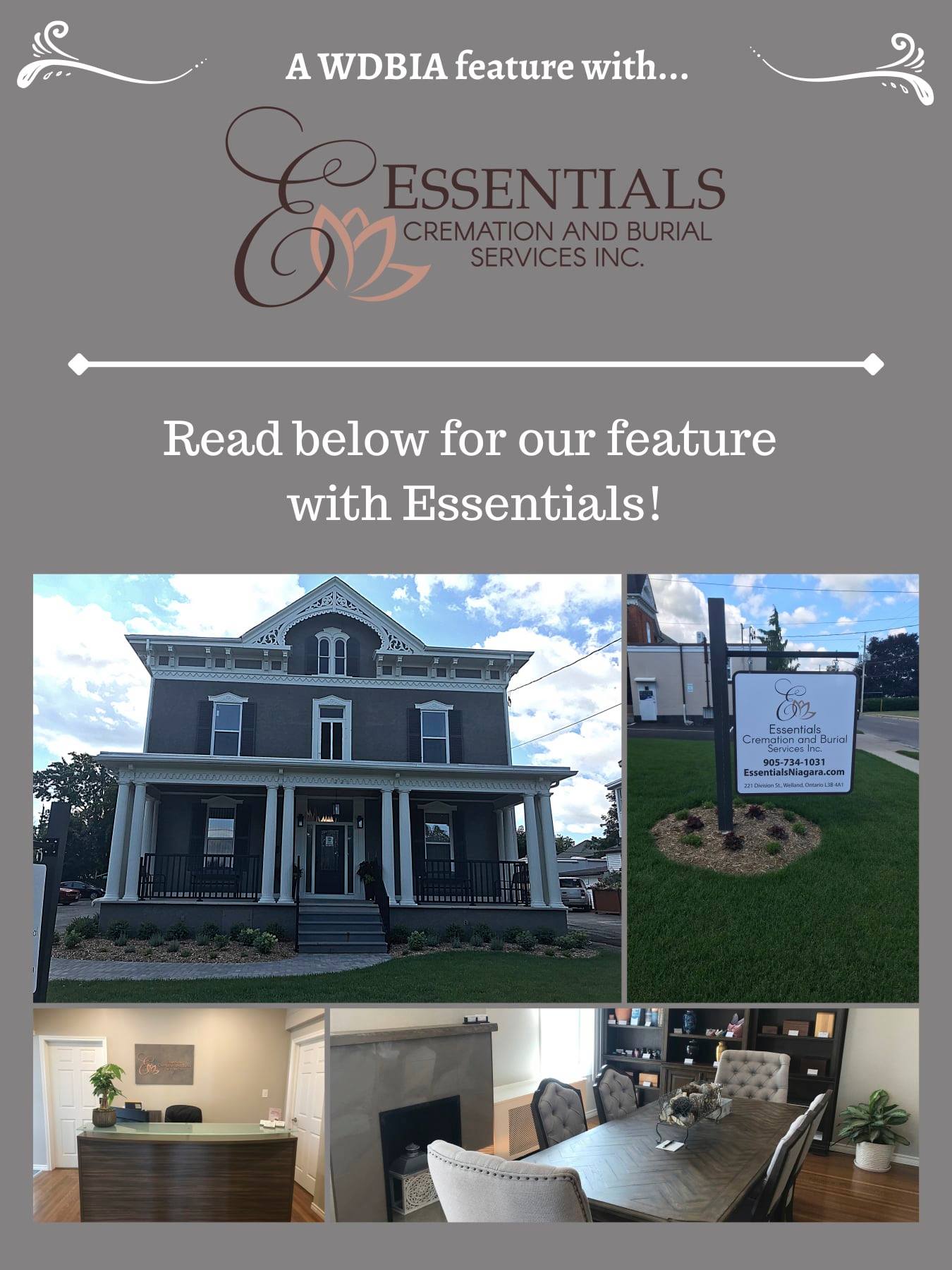 WDBIA Feature With Krystal Riddell For Essentials Cremation and Burial Services
There are some jobs that not everyone is made for. To be a funeral director takes a special, compassionate, patient, genuine person and Krystal Riddell and her team are all those things.
If you're passing by Division Street in Welland, you might come across Essentials Cremation and Burial Services. But it's important to note that Essentials is not your cookie cutter funeral home. Before learning more about Essentials and their unique services, let's talk about the people behind it.
Krystal Riddell is the Owner of Essentials Cremation and Burial Services with locations both in Welland and Niagara Falls. You might ask, how does someone get into this profession? Krystal Riddell lost someone very close to her when she was only a teenager. Her family's plans were to ship their loved one's urn back to their homeland, to honour their wishes, and help gain some closure for their family. There ended up being a very upsetting accident that threw these plans off the rails, which left her family upset, and unable to follow through with their original intentions. This stuck with Krystal.
As previously mentioned, Krystal was a teenager, a high schooler while this all happened, which is a time in your life where people always ask that terrifying question, "So what are you going to be when you grow up?". Krystal's Father was surprised, to say the least, when she expressed interest in funeral services and how these processes worked. Krystal looked into the profession herself and after learning more, she knew she would be able to help people the same way. After graduation she attended the 2-year funeral services program at Humber College and began working in Niagara shortly after.
Considering Krystal's drive, passion and admiration for people in this profession, it wasn't surprising that Krystal opened up her own business. She created Essentials which was incorporated in 2017 and she has been in the business for a total of 16 years!
What sets Essentials apart from other funeral homes? Essentials prides themselves on offering simple, affordable services because they want everyone to have the opportunity to honour their loved ones. Generations today are looking for more simple services, for example – a celebration of life rather than a full traditional memorial. Her website is very transparent, as all prices are listed which is especially helpful to clients with a modest budget. What Krystal sees as important is being able to share stories and stay true to their lost loved ones, and change people's experiences for the better when having to make these arrangements.
A unique service that Essentials offers and encourages is green burials. A green or natural burial refers to returning a body to the earth as simple and with as little an impact on the environment as possible. For people who are mindful of the cyclical nature of life, a green or natural burial is a spiritually fulfilling alternative to conventional burial or cremation. Additionally, Essentials still does offer traditional burials and cremations of any scale.
People find value in the uniqueness of Essentials all the lengths Krystal and her team are willing to go to make your experience as easy as possible, even if that means offering guidance for the government paperwork and how to handle the estate.
Krystal is thrilled to have opened the second Essentials location in Welland. They were already serving many families in the Welland area, so it just made sense, and now they are equipped to help clients with whatever they need from two locations!
These people have such an important job that not just anybody can do, but as Krystal says, the passion carries them through. If you are looking for a refreshing, innovative and cost-effective option, do not hesitate to reach out to Krystal and her team for your funeral service needs. Thank you Krystal for always putting others before yourself.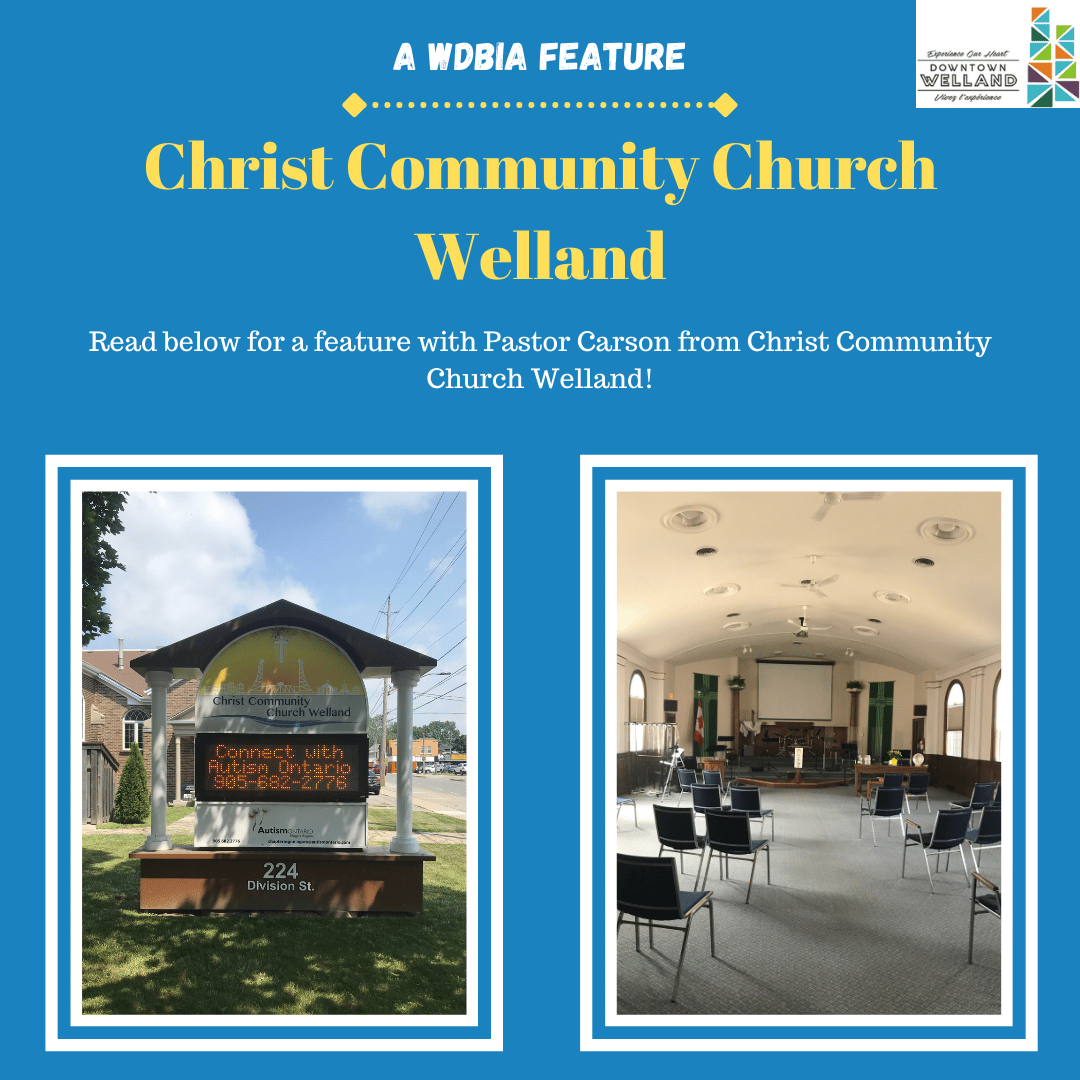 WDBIA Feature – Pastor Carson from Christ Community Church Welland
Downtown Welland is home to various churches that continue to be staples in the community for so many people, one of these staples is Christ Community Church (CCC).
In 1997, a certain man was ordained in Grimsby, and we know him today as Pastor Carson at Christ Community Church Welland! His work background includes 5 years at Atlas Steels and 7 years at nursing home in Dunnville. Carson's commitment and passion for what he does has helped lead CCC in helping our community as a whole for the last 15 years.
Pastor Carson describes CCC as a missional church because it is unique among the family of churches to which it belongs. A current example is CCC's partnership with the Niagara Chapter of Autism Ontario. They have partnered to provide a presence for families dealing with autism right at the church. Unfortunately, these services are temporarily halted due to COVID-19, but Pastor Carson is optimistic and hopeful because during the shutdown preparations have taken place to launch the local project. CCC is a larger facility than one might think at first glance, and it now has a designated sensory room as well as areas for families that will be able to be used when the South Niagara Autism program is up and running at the church. Information about donations for the South Niagara Autism Initiative is available on the Christ Community Church Welland website. http://www.cccwelland.com/
Their work with Autism Niagara came about after their daycare closed in December of 2016. Following a time of discernment, they recognized the need of families coping with a loved one with autism, especially in South Niagara, because travelling can be a real barrier to resources, and South Niagara did not have many options. It was truly a match made in heaven. Pastor Carson and CCC wanted to find a new way to help the community and Autism Niagara wanted to reach the South Niagara Region! From there, there was a trial day camp offered to autistic children for two consecutive years, which went amazingly well, so it evolved into the plan to offer weekly programming year-round once we are closer to eradicating COVID-19.
Additionally, Pastor Carson and his team are always open to helping members of the community in need. The church is home to two chapters of AA and it has been home to Youth Unlimited. He believes in helping people by offering them the opportunity to be helpful. In his experience, offering the opportunity to serve, separates the people who truly want to get better and improve their life from those that don't. "Helping serve others through a local church, can give you a sense of belonging and purpose" he says. Their annual Settler's Thanksgiving Supper" is a tangible example. Doing something for others is proven to help your mental health, and it provides you with a sense of pride and dignity which can go a long way towards health and wholeness.
Pastor Carson believes that it is important for the light of hope to be where darkness sometimes overcomes. Missional churches like CCC, "Live in the midst of uncertainty but with conviction about what it is they're trying to do, even though they may not yet have the means to do it." He says "I dislike the vulnerable feeling of being in need, but I absolutely love it when the breakthroughs come and the vision of what could be becomes a reality."
Feel free to watch Pastor Carson's encouraging weekly 25 minute Sunday videos uploaded to The Christ Community Church Welland Youtube Channel! https://www.youtube.com/channel/UCJv6NE2I6UlUEAI_giMB7_g
Thank you Pastor Carson and Christ Community Church Welland for all you do for our community!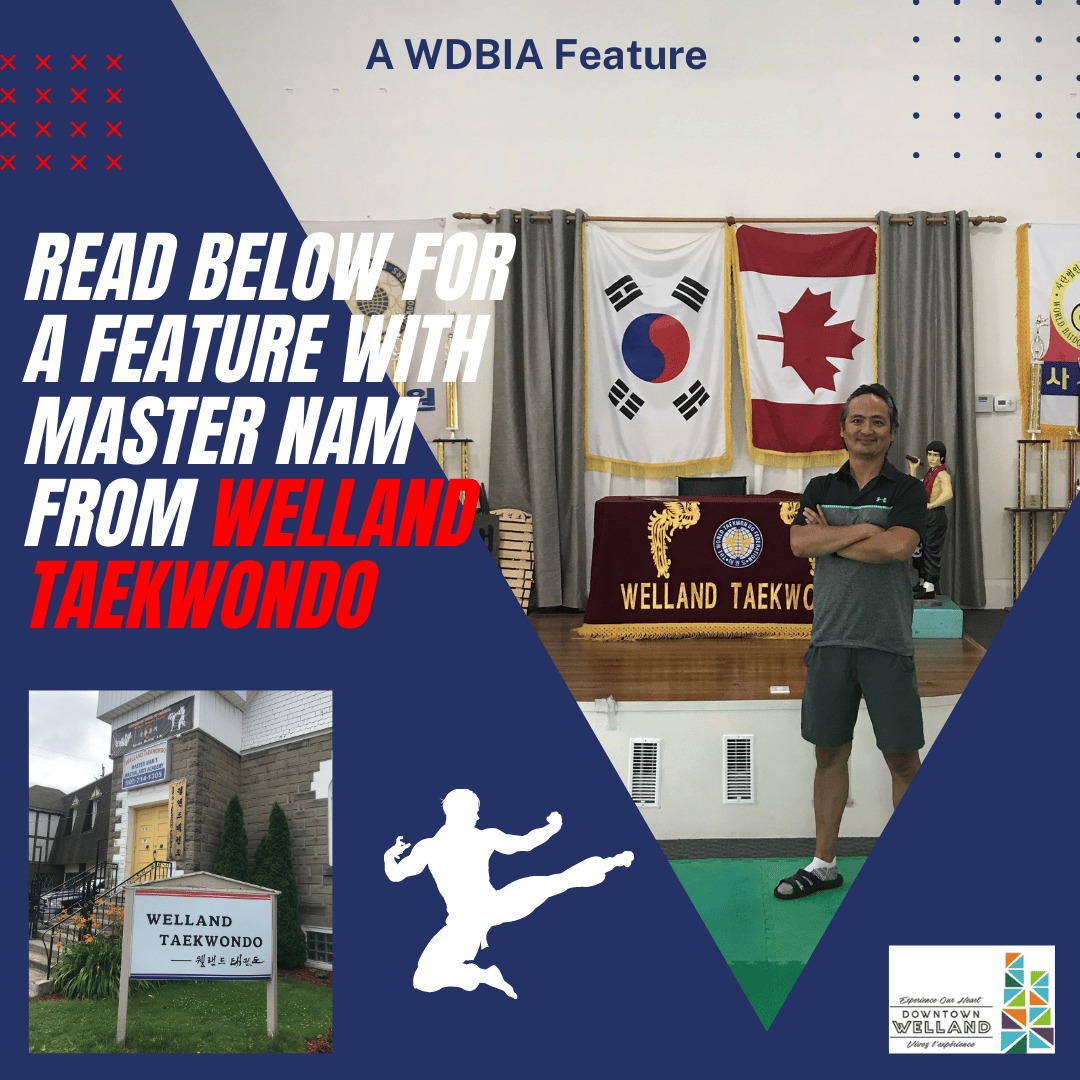 WDBIA Feature with Master Nam from Welland Taekwondo
Some might think that joining a taekwondo studio means you will learn how to hit hard, kick high and be a strong fighter. This is all true, but there is so much more to this Korean martial art, especially if your instructor is Master Nam.
Master Nam owns and operates Welland Taekwondo on Division Street in Downtown Welland. There is no one who loves what he does, in the city that he does it, more than him. Before learning about what Master Nam teaches at his studio, let's get to know his story.
Before Master Nam was "Master Nam", he lived in Korea with his family and studied taekwondo like most children his age. He says taekwondo in Korea in comparable to hockey in Canada! There is a sort of unwritten rule that you must be trained in taekwondo and many parents expect their kids to at least earn a black belt! While Master Nam's passion for taekwondo grew stronger, his interest in the country with the maple leaf flag grew as well.
One day, he pointed to a Canadian flag and asked his uncle, "What flag is that?", so his uncle explained a little bit about Canada to him. He learned the basics of course, it's the country above the United States, and we're all very nice
. He had always thought fondly of Canada and then in his early 20's, he finally decided that Canada needed another taekwondo master and another nurse (aka his wife).
How did they end up in Welland? Master Nam grew up in a large city, comparable to Toronto, so he knew he wanted to live somewhere a little quieter, and that smaller city ended up being Welland! As soon as Master Nam and his wife arrived in Canada, they got to work. Despite some financial struggles at first, he was able to open up his very own taekwondo studio, which had always been a dream from him. That's Welland Taekwondo that we know and love today!
Master Nam says he was overwhelmed with support from his new Canadian neighbours, and instantly realized that he made the right decision.
What makes Master Nam's taekwondo studio so special? Master Nam explains that learning taekwondo brings out many useful traits in a person like social skills, manners, confidence, quick thinking, self-respect, and respect for others. Taekwondo is a great accompaniment to a child/teen's day-to-day school routine. It teaches things that aren't taught in school and provides the opportunity to alleviate stress and build self-esteem!
One of Master Nam's favourite things about his job is seeing growth in his students. In a short amount of time, students gain confidence in themselves and this confidence transfers over to their personal lives. Master Nam says his job is not just to teach martial arts, but to bring out what is special in each of his students. He says you should never compare yourself to others because everyone has something special, and he help you realize your full potential.
If you are looking for a way to enhance your life mentally and physically, consider joining Welland Taekwondo on 119 Division Street. Thank you Master Nam for being such a genuine, caring leader in our community!
WELLAND TAEKWONDO