Welland Bridge 13
Bridge #13 was an operational lift bridge during the shipping season of the Welland Canal. The construction of the steel span was completed between 1927 and 1930 by the Dominion Bridge Company and was done so on temporary pilings that were driven into the canal bed during the winter of 1929-30. Much of the steel work was completed by members of the Mohawk First Nation who have a long and noted history of being some of the finest ironworkers in North America.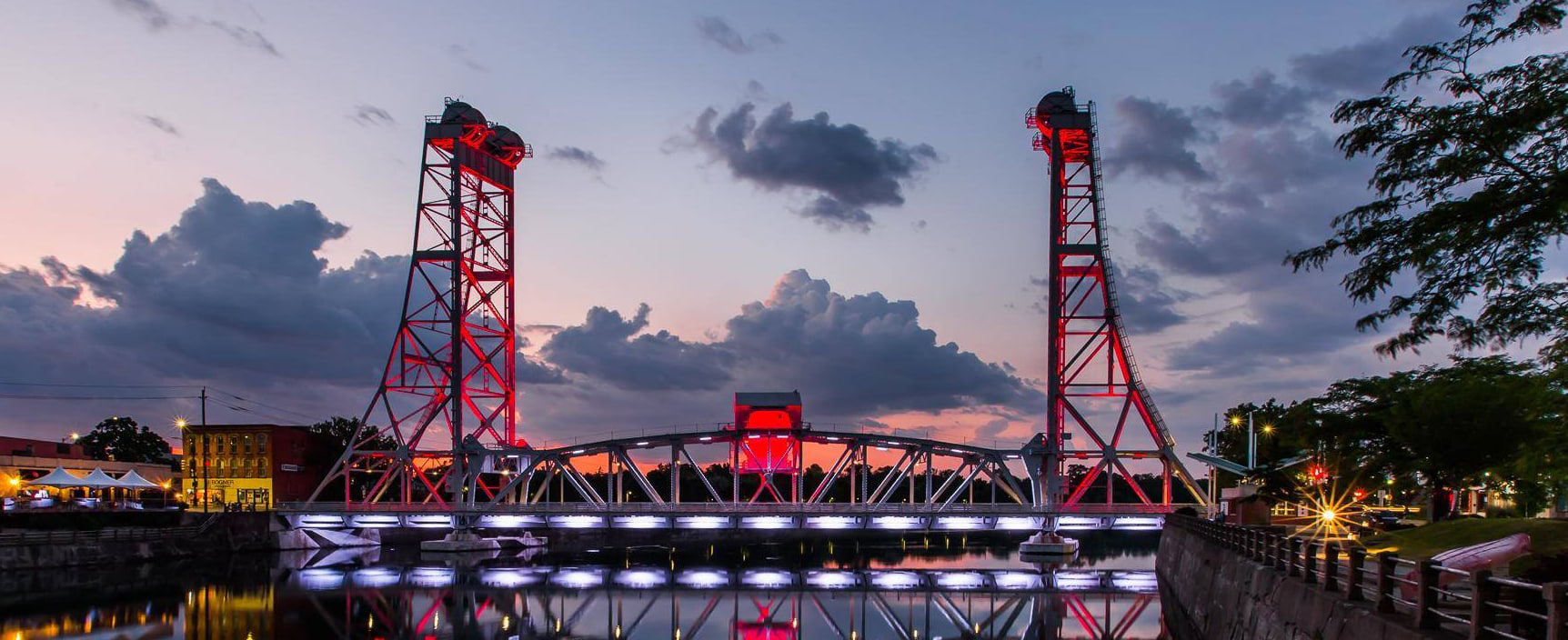 It was December 15th 1972 that the bridge made it's final "lift" after 42 years of service. It would take another 42 years for the historical structure to take on its new mantel following a full structural re-coating rehabilitation project which included a full make-over of LED programmable lighting.
On July 1st 2015 Bridge #13 was "launched" with its new "coat of many colours" in our Downtown. Our Bridge #13 celebrates with its citizenry special occasions, awareness of world events; celebrations as well as memorial lighting.
About Illumination Requests
By filling out this request form you are authorizing the Welland Downtown BIA to put in an illumination request to Niagara Region on your and/or your organization's behalf.
This is a request only. The illumination schedule for Welland Bridge 13 is at the sole discretion of Niagara Region.  All applications will receive a response whether or not their request has been approved. At least 2 weeks' notice is required before the start of a month (for example if requesting a lighting request for May it must be received by mid-April).
Disclaimer:  Due to the high volume of applications not all requests can be accommodated.
WELLAND BRIDGE 13 ILLUMINATION DISRUPTIONS
The following fixtures will remain dark on Bridge 13 until the replacements are installed:
– Wheelhouse – Upper lighting fixtures on the east side
– West tower – All lighting
– East tower – South Pully Fixture
Special Illumination Request
IMPORTANT: Requests received more than 60 days in advance of the desired date for illumination will not be considered. If you have an illumination request, please make all request only within 60 days of the desired date.