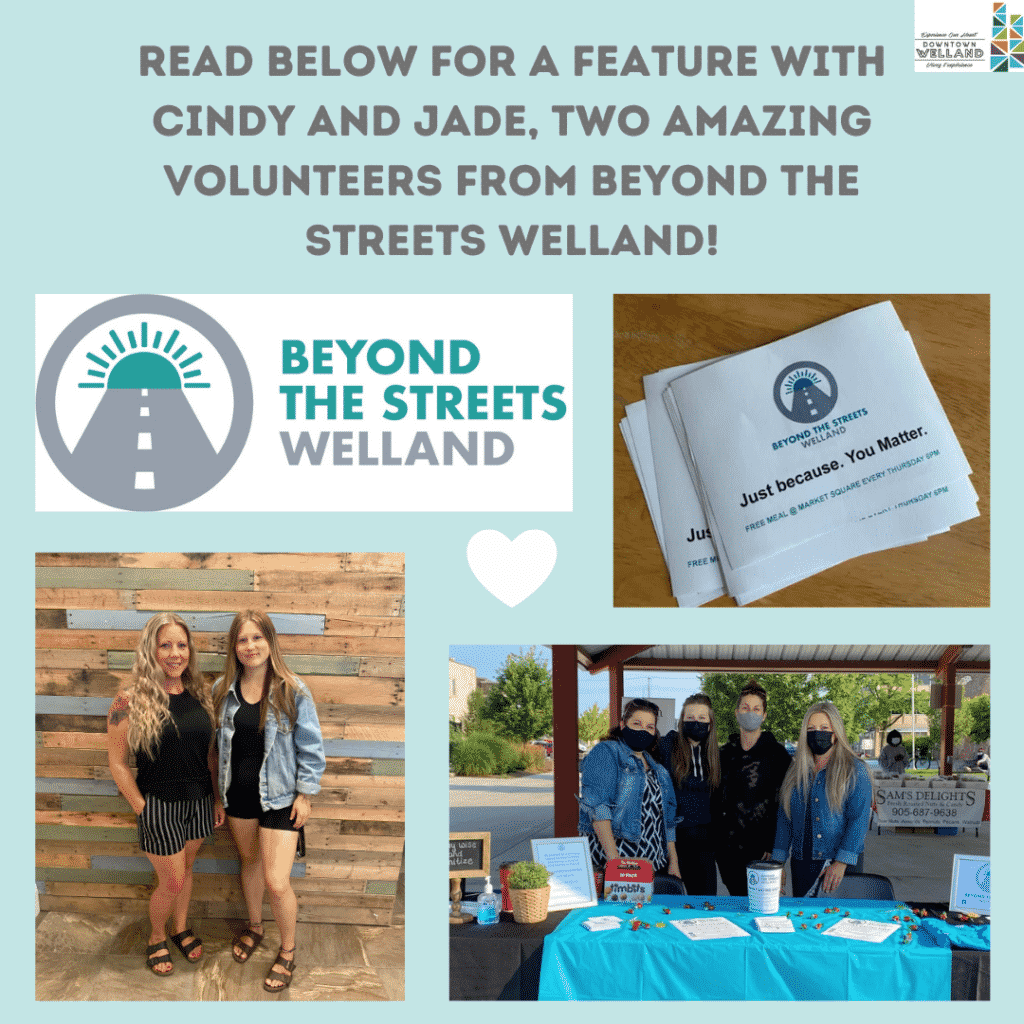 Feature with Cindy and Jade from Beyond The Streets Welland
The saying "not all heroes wear capes" is definitely true and well describes the volunteers at Beyond The Streets Welland. Beyond The Streets is a volunteer led organization providing various services those experiencing, or at risk of homelessness in Welland.
The volunteers at Beyond the Streets have a mission statement – "Nobody gets left behind". This organization does not strictly serve homeless individuals, but also people at risk of being homeless, low-income families and senior citizens. Since launching their services in October, the number of people that they help weekly has been steadily increasing, which means more people in Welland are getting the help they need thanks to them!
What services does Beyond The Streets provide? One of the services that they provide is free, hot meals at the Welland Farmer's Market every Thursday night. Not only is this an opportunity to receive a free meal, but it is somewhere to belong to on Thursday nights and provides an opportunity to reach out to the volunteers for help about other issues. Thursday nights also provide the chance to pick up some free, fresh produce generously donated by Small Scale Farms Community Garden! Another supporter is Tyson, a teenager in Welland who continuously donates multiple party trays of pizza every week for Street Outreach night! Beyond The Streets is so thankful for all the support they have received from the downtown Welland community.
Aside from providing food and drinks to community members in need, volunteers take part in street outreach, distress response and dispensing hygiene/sanitary products. Street outreach is the opposite of as the free meals at the market on Thursdays, in the sense that instead of having people approach the organization, the organization will approach people in need/distress. Volunteers carry many resources with them to assist the best they can, but also have the appropriate contacts to call for specific situations.
There are some misconceptions about the type of work that Beyond The Streets does. They want to emphasize that volunteering like this does not enable a homeless or lazy lifestyle. Many of the people they assist are working through their own issues and need some help along the way, whether it be a single parent or someone with mental health issues. They feel that people are judged so easily and deserve to be offered help no matter what.
Cindy and Jade's favourite things about volunteering with Beyond The Streets is the rewarding feeling you get from helping others and getting to know the stories behind some of the faces. Many of the people they help have trust issues, so having someone open up is so rewarding in that case. They offer a sense of familiarity to people seeing them each week, which helps them build meaningful relationships.
Interested in volunteering or donating? Anyone can be a volunteer if interested. It is recommended to contact them through their Facebook page (@beyondthestreetswelland) or through their email (orlbaqgurferrgfjryynaq@bhgybbx.pbz). They also accept monetary donations, food & drink donations, clothing and more through the same contact information.
Thank you volunteers of Beyond The Streets Welland for your passionate work in trying to make a difference in our community!