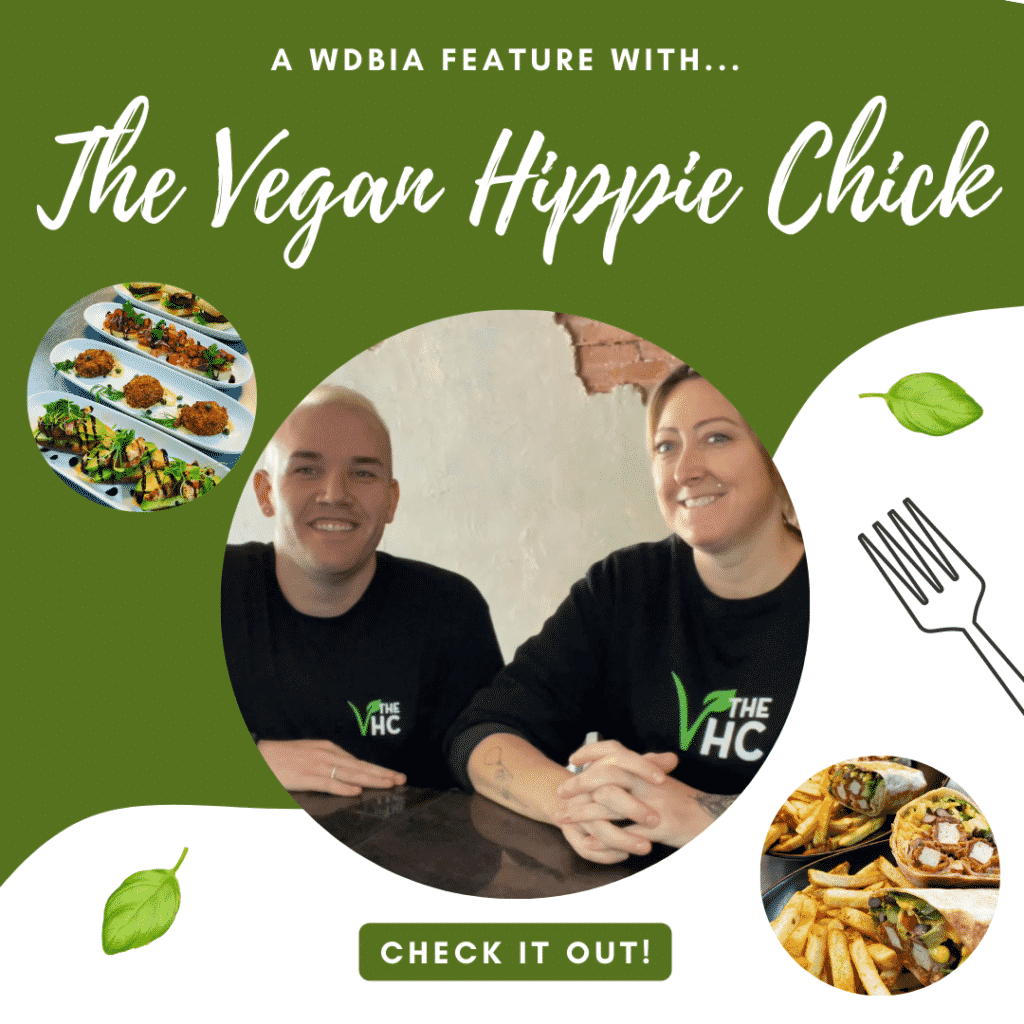 Feature with Mandy and Corey from the VHC
Looking for a night out? Want to try something new? Take a visit to the Vegan Hippie Chick in Welland's downtown core, Welland's FIRST ever fully vegan restaurant! You'll be greeted by the friendly staff, be offered a wide selection of creative vegan foods, and maybe even hear some live music!
The Vegan Hippie Chick (also known as the VHC) is run by the Operations Manager – Corey, and the vegan hippie chick herself, Mandy! Mandy is the restaurant owner and head chef while Corey works his magic to make sure everything runs smoothly, and that Mandy's ideas can come to life! The VHC is also accompanied by an amazing team of staff who are passionate, creative, and hard-working.
Mandy describes the opening of the VHC as being very organic. She pursued her love of food first by catering for the yoga studio she worked at, then opening her own café, and now being a restaurant owner! You might wonder about the closure of her café… but it was only due to high demand! When the opportunity presented itself to rent the current VHC building, she knew she had to take it. It was time to expand and give her aspirations the space they needed to grow. Everything happened so quick for Mandy, but lucky for us, that gave us the VHC that we know and love today!
Plant-based restaurants are becomingly increasingly common these days, but what sets the VHC apart from the others? Their innovative cuisine is so rare and refreshing, and it pleasantly surprises their customers whether they are vegan, or not. The VHC isn't afraid to recreate 'classic' meals by making them plant-based and they don't shy away from adding new creations to their menu. One of their goals was actually to attract people who aren't vegan, in which they continually succeed, by introducing their tastebuds to delicious twists on foods that happen to be plant-based. If you take a look at the menu, you'll notice a lot of modified pub-style foods that are often accompanied by the commentary, "I can't believe this is vegan!"
The response that they have received from the Welland community has been outstanding! Mandy wasn't sure what she would be in for, but soon enough, she had line ups down the street and was blown away by support from not only customers, but fellow downtown businesses. People have started to travel from all over Ontario to come try the Vegan Hippie Chick, and their mouth-watering food pictures online are likely to blame! The VHC loves new patrons and encourages them to stick around Welland and see all it has to offer.
What do you love most about your job?
Mandy – I'm a foodie and I get to do what I love and be creative. I love surprising people and sharing the food that I make. The group of people we work with are amazing and it's been nothing but a great experience, I feel blessed!
Corey – Getting to be creative at work and being supportive of the change that you want to see. Being able to transform ideas from paper (or from Mandy's head) into reality and letting them get the attention they deserve is amazing.
Come dine at the Vegan Hippie Chick on 91 East Main Street and have one of your favourites or try something new! You can enjoy live jazz on Monday nights, live music on Wednesday Song Writer nights and experience delicious cuisine every day of the week. Stay tuned for updates on their Drag Event, online ordering & reservations, and an additional location!
Call for reservations: (905)-714-7431
Website: http://www.theveganhippiechick.com/
Instagram & Facebook: @theveganhippiechick