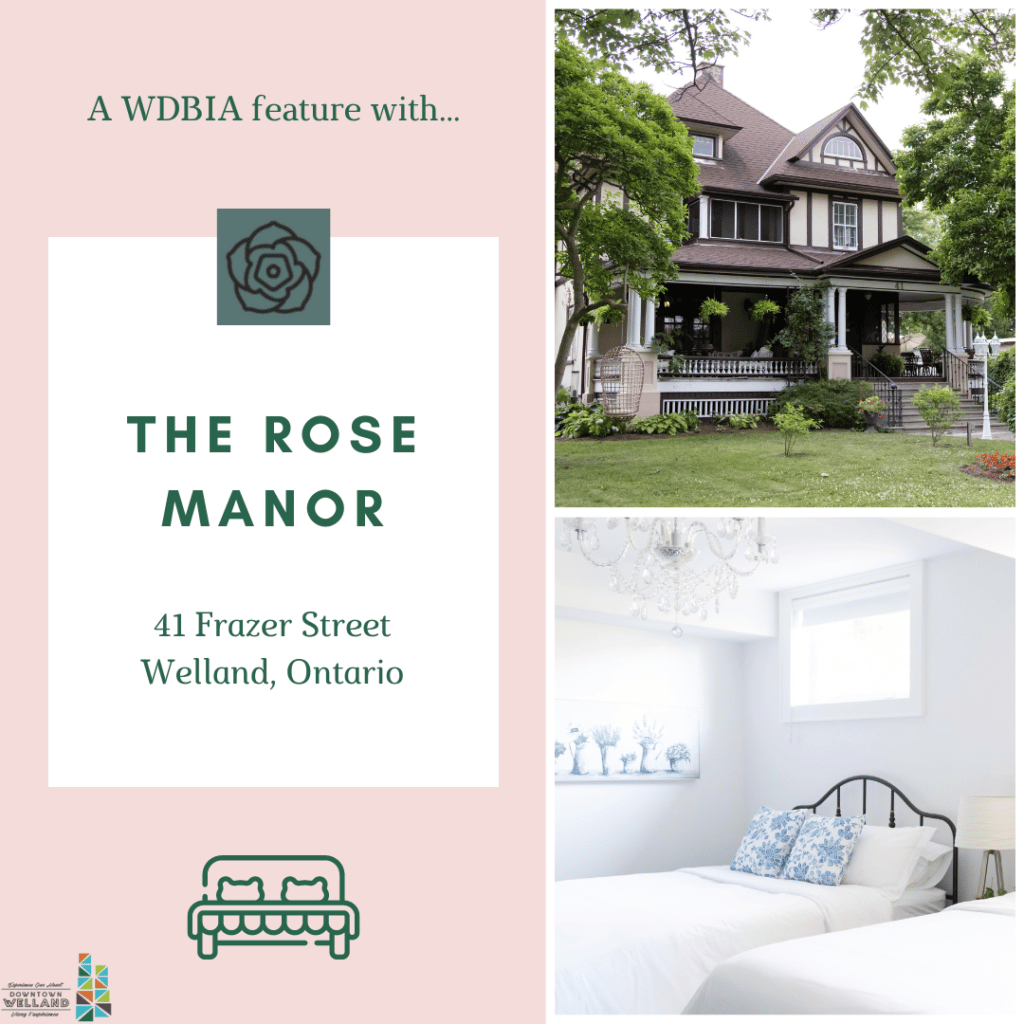 Rose Manor Feature
Nestled in a quiet neighbourhood on 41 Frazer Street is one of Welland's absolute gems! The Rose Manor is a beautiful, spacious bed and breakfast that combines its timeless historic architecture with contemporary hand-picked décor. This is a space for a local weekend getaway, an out-of-town retreat, and smaller scale events! The Rose Manor is under new ownership and these owners have so much in store for the property.
Sisters Kristen and Kathryn Groom followed their dreams to go into business together and operate a bed and breakfast. The sisters wanted to connect their passions for travel, hospitality, cooking, and meeting new people, so when the manor went up for sale, they jumped on the opportunity. Kristen and Kathryn were born and raised in the Niagara region, so they were happy to stay in the area and be able to share all the special things about where we live.
What's unique about this bed and breakfast? For starters, there are 8 beautiful rooms, each with their own notable style, and each room is actually named after an original Rose family member! The original home is very large and was built in 1906, but in 2016 another extension was built on the back to provide even more room for guests. It's difficult to decide which part of the home to enjoy first because every corner has its own charm. The front porch may be one of the most popular spots with the beautiful view of the canal, while you're surrounded by flowers…and being served by Kristen with one of Kathryn's delicious creations! Breakfasts are a plated, sit down experience and are seasonally based. Dietary restrictions are accommodated and there is even a garden on site for the chef to incorporate fresh produce.
What's next for the Rose Manor? With such a large unique space, the sisters want to offer massage therapist and aesthetic services to their guests as well! They are currently on the hunt for massage and aesthetic service professionals, so please reach out if this opportunity interests you! Kristen and Kathryn want to be the reason that people come explore what Welland has to offer and give you a memorable stay while you're here. The Rose Manor isn't just a place to stay, it's a whole experience!
It doesn't stop there…please consider this venue for all your small-scale event needs! The sisters would love to use their beautiful space to its full potential for micro-weddings, bridal showers, weekend group retreats, girls' trips, and much more! Kristen and Kathryn would be excited to partner with local businesses to create fun experiences for locals and visitors. They love to promote the best spots to dine, shop, kayak, and explore in Welland.
The Rose Manor is open 7 days a week, and bookings will soon be available online pending the website launch, but for now the best way to contact them is through social media (@rose.manor.welland) or email (ebfrznabejryynaq@tznvy.pbz). Stay tuned to their Instagram or Facebook to see what's going on at the Manor! Kristen and Kathryn are an amazing duo, and we recommend that you choose them as your hosts for a relaxing stay in the Rose City.