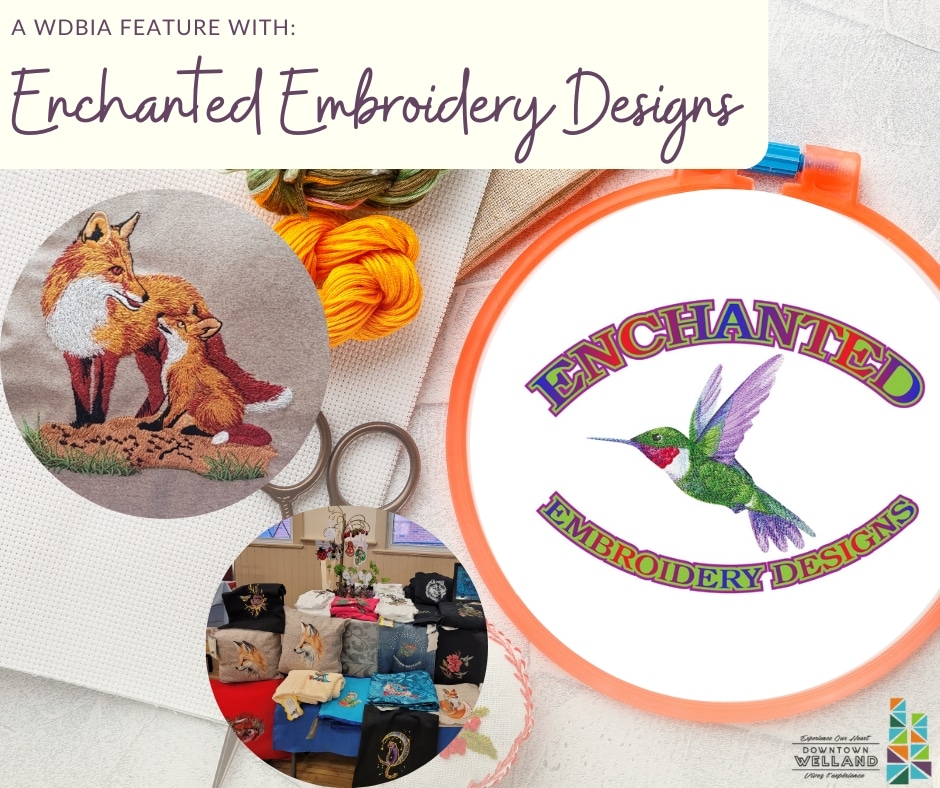 Located on 14 King St, Welland is Enchanted Embroidery Designs, a place where creativity thrives and where artistic ideas are made into a reality. At Enchanted Embroidery, there is no such thing as an idea that can't be done. Enchanted Embroidery specializes in embroidering designs onto virtually anything, from home décor to clothing like jackets, shirts, and hats, to luggage, lunch bags and so much more!
Enchanted Embroidery has been operated by Doris and Vince since November 2022. Since its opening, Enchanted Embroidery has been selling embroidered designs on clothing and merchandise as well as helping customers create new embroidered designs for various projects. What sets Enchanted Embroidery apart is how personal the process is for customers. To create an embroidered design, all you need is an idea! At each step of the process, Enchanted Embroidery will help customers design and create ideas for embroidery. Rather than having the embroidery machines in the back of the store, customers can get an up-close view of the embroidery machines in the front of the store to witness the entire process. Your design ideas can flourish under the creativity of Doris at Enchanted Embroidery, who has turned dresses into lucrative lunch bags and even sweaters into decorative pillows!
Embroidery is for everything, not just logos! At Enchanted Embroidery, you can digitize images into embroidered designs. All you need is an image on your phone that you would like to get embroidered! This is an amazing way to turn an image of your pet into an embroidered design to put onto blankets, sweaters, pillows, and so much more! A custom-made embroidered design is the perfect way to create your own unique style, décor, or vision! At Enchanted Embroidery, you can be a part of every step in the process of creating your own unique, custom-made piece of art that will stay with you for years and years.
Have a look at some of the amazing designs that Enchanted Embroidery Designs has created on their website at https://enchantedembroiderydesigns.com or visit their Facebook at Enchanted Embroidery Designs Welland.