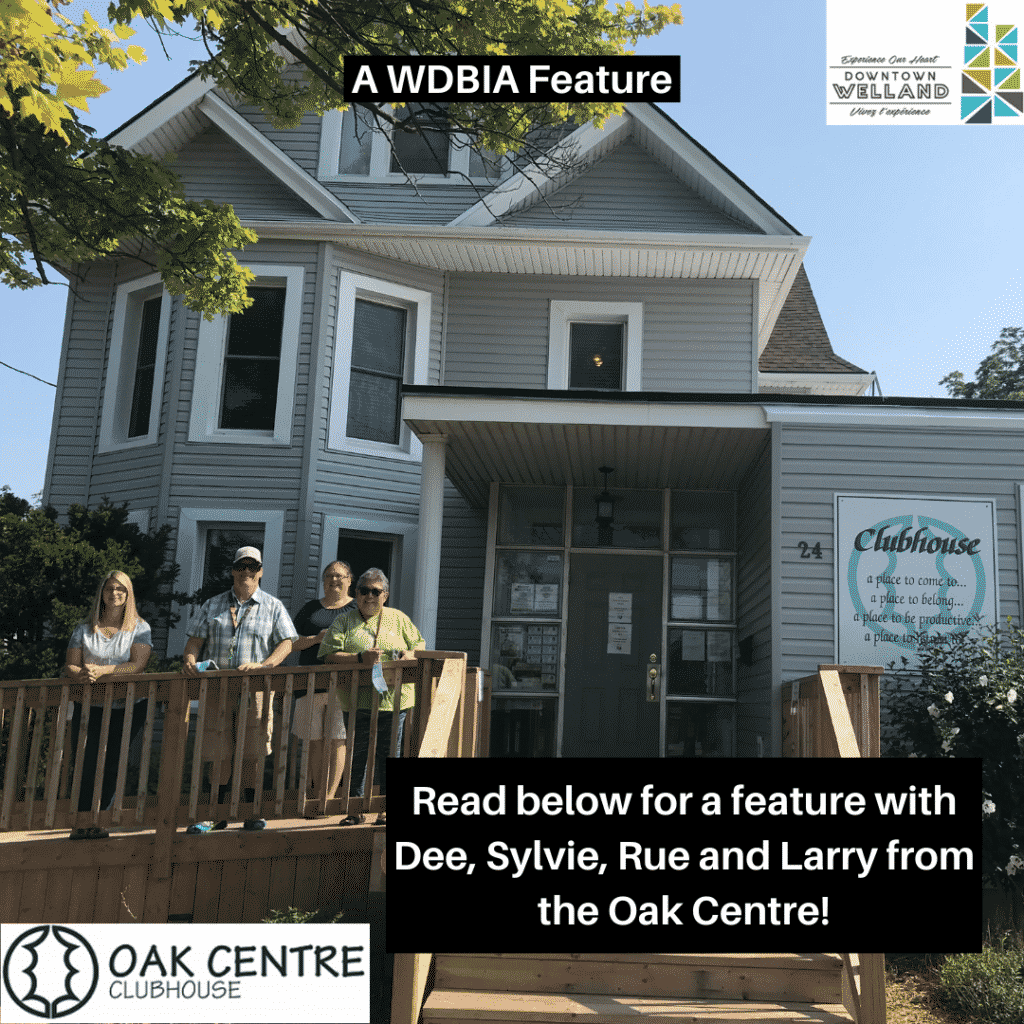 FEATURE WITH DEE, LARRY, RU & SYLVIE FROM THE OAK CENTRE CLUBHOUSE
The Oak Centre Clubhouse is nothing short of amazing and has been ever since it was founded. A kind-hearted nurse named Betty Farrish helped to apply for funding in 1985 for a community mental health program in Welland to serve citizens dealing with mental illness. Not long after, funding was approved, and the Oak Centre turned from a dream to a reality. Making adjustments over the years helped to develop the Oak Centre Clubhouse that we know and love today.
Some might not fully understand what the Oak Centre does? The Oak Centre does not "treat" mental illnesses, they support their members who are living with mental illnesses, in fulfilling whatever their hearts desire. This could include employment, education, housing, increased social interaction, or simply just having a place to belong to.
Member Larry explains that some of these tasks like attending classes or working a new job can be scary for people with mental health concerns and that accomplishing something like this is truly monumental. The Oak Centre is prepared to help members every step of the way until they are comfortable enough to reach full independence. For example, the employment continuum at the Oak Centre looks like: transitional employment placements –> supported employment –> independent employment. Regarding education, members can rely on each other by getting tutoring from previously graduated members, or even bringing someone to class with them for support.
It should be mentioned that the Oak Centre values a work/play balance. They organize many fun outings together like camping, going out for dinner, to the zoo, Canada's Wonderland, African Lion Safari, St. Jacob's Market, the movies, and more! These activities are great opportunities to get out, be social and have some fun! Though, nothing is mandatory!
The Oak Centre is also involved with a multitude of organizations to provide a variety of resources to their members. Another program at the Oak Centre is the "meal a day – for a dollar" program, providing healthy meals to their members for only $1. There is also the evening/weekend program – serving dinner on Wednesdays (4pm-7:30pm) and lunch on Saturdays (11am-2:30pm).
Besides the work and play, what is the Oak Centre's mission? Their philosophy is to see people from a holistic perspective, their focus is on the strength of their members despite the barriers that they may face. The Oak Centre gives people a chance to reclaim their power. Members with lived experience have a resiliency to them and have the ability to overcome many things. It's important to give the members faith and opportunities because sometimes the system can make them feel discouraged. At the Oak Centre, members make decisions for themselves, they have responsibilities and feel empowered. Members feel freedom in everything, like going on a grocery run, making lunch, giving tours, or even sitting on the board of directors, like Larry, who has been a member for 26 years, on the board for 13 years and is now the Vice President!
Everyone at the Oak Centre is equal, all opinions are valued, and everyone is respected. All work at the Centre is done by members, whether there are working in Clerical, or the Garden Café, you can choose what interests you the most, no job is too small!
What is your favourite thing about the Oak Centre?
Dee – The opportunities, the respect and the hope. It's just fun! We are always laughing here! We all have genuine, authentic friendships with each other.
Ru – The richness of the people, being able to know people who are so resilient and seeing their recovery. It's a beautiful miracle.
Sylvie – Seeing everyone as equal and building real relationships. Getting to be a part of people's lives through the good and the bad.
Larry – Believing in the program, and the philosophy. The friendships that are made and just being able to sit and have conversations with fellow members all the time.
A big thanks to the Oak Centre Clubhouse and its members for providing such a fun, welcoming environment to Welland community members dealing with mental illness. Your work does not go unnoticed!